Baker's Art is the mastermind of Cindy Chan, a celebrated Pastry Chef with a penchant for serving up tasty home-styled recipes that are reminiscent of childhood days. Cindy weaves her intricate artisan cakes with the elegance of hand-crafted sugar paste, creating a work of art in every masterpiece. Cindy's pastry journey in the domain of cakes and pastries began decades ago. Her humble beginnings were tested with many trials and errors and repeated attempts to perfect her blend of raw passion with creative ingenuity.
Her driving force was her desire to infuse every cake and pastry made with sheer pleasure and love that only comes from the traditional goodness of delicious home-baked cakes and pastries.
Cindy prides herself with high quality standards in the usage of fresh, natural and premium ingredients. She only uses high grade butter instead of margarine, dairy cream in place of non-dairy cream and aromatic vanilla beans from Madagascar instead of vanilla extract in all her bakes. After years of cleverly combining her knowledge in the science of baking and bringing her creations to life with uniquely designed bespoke cakes, Cindy opened Baker's Art, an endeavour she started in her pastry lab in Bangsar South, Kuala Lumpur.
Cindy's passion and dedication is visible in the number of orders she receive and the customers who repeatedly place orders for her speciality cakes and other baked goods. It lights her heart to see the big smiles on her customers' faces as they pick up their cakes from the store. It's a rewarding experience and worth every minute spent on her creations. Cindy is poised to take her business to the next level with the continuous addition of new creations and the expansion of her product line.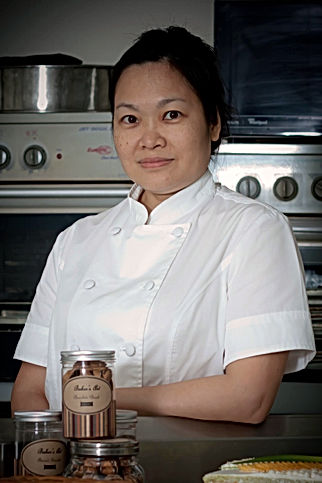 .h1 {font-size: 12px; }